Springhill Presbyterian Church is located at 10 Westminster Way, between Bit and Spur Rd and Old Shell Road. Turn into the church on the East side and drive all the way around to the West side where you will see the Edington Building on the left. Parking is available on two sides of the building directly in front. The entrance to the building is clearly marked. We will be meeting in the common room in the center. You can see the common room when you come into the building.
---
Important Message to our Members
We are excited to announce that we will be meeting again, in person at our usual meeting space at Spring Hill Presbyterian Church, 10 Westminster Way. The May membership meeting begins at 2:30 p.m. and will be held in the Edington Blding.
Please consider bringing a sweet or savory snack to share. MAA will provide coffee and beverages.
---
Springhill Presbyterian Church 10 Westminster Way Mobile, Al 366
Membership Meetings
MAA Monthly Membership Meetings are the 3rd Sunday of each month from September through May at 2:30 pm. We meet at Springhill Presbyterian Church in the Edington Building.
MAA meetings are open to all. You do not need to be a member to attend.
---
Congratulations to the winners of our Spring Member Show!
Greer's Markets BEST of SHOW - Debbie Guy for "Bringing up the Rear" , watercolor
Second Place - Durand Seay for "Right of Way, oil on canvas
Third Place, The Marjorie Dubina Memorial Award (Sponsored by Kate Seawell) -
Jeremy Sigle for "Sunlit Evening Wade", acrylic on gessoboard
Watercolor Award (Sponsored by the Watercolor Sociey of Alabama) - Barbara Rettig for "Backyard Blues", watercolor on 300 lb. paper
William Bush Founders Award (Sponsored by the Broughton Family) - Nikki Shaw for "Southern Beauty", photography
Roxann Dyess Memorial Award (Sponsored by Lupercalia Art Society Gallery) - Shirley McKellar for "Spring Flowers in Blue and White Vase", colored pencil on bristol board
George Dubina People's Choice Award (Sponsored by Kate Seawell) - Shirley McKellar for "Chief Atmore Pow-Wow, colored pencil on bristol board
THANK YOU to all of our SPONSORS!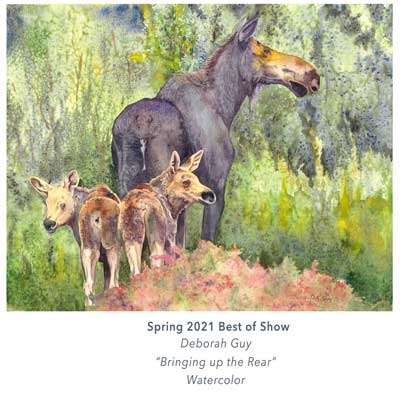 Mobile Art Association is pleased to present to you a Virtual Slide Show of this year's Spring Member Show. This is a special treat that we are trying to add to our Shows & Exhibit's going forward!
Let us know if you like it, and, of course, please do visit the shows in person and support our wonderful local galleries! The show will hang through June 1, 2021 at Lupercalia Art Society, 358 Dauphin Street, Mobile, AL 36602.
To view the slide show please click on the link below.